DCPA16: Taking the Lead
What is a Digital CPA? These practitioners that are taking the lead on implementing cloud based technologies, evolving their business models and leadership strategies for today and tomorrow's firm. They are focused on being future relevant and evolving the client accountant relationship through collaboration and advisory level services.
Should I attend Digital CPA?
Are you evaluating, or currently transforming, your accounting services to the new outsourced accounting/BPO model?
Are you looking to better employ cloud technology?
Are you looking for a community of peers discussing how a digital world is impacting how you price, staffing, design your service models, keep client data secure and more?
The Digital CPA Conference
2016 will be the 5th annual Digital CPA Conference. The curriculum has classes for those who are just starting their digital journey, and those who have begun the transformation.
This conference is committed to providing attendees an event to engage with like-minded peers anticipating and preparing for future trends. Many past attendees have noted how willing this community is to share their successes and failures with one another, so they can achieve their own success faster. This event is also supported by many of the profession's top thought leaders.
"As someone who advises firms across the country on growth strategies, what resonates for me about Digital CPA is that it's 100% focused on keeping firms relevant in today's highly disruptive and digital world." — Gale Crosley, CPA, President, Crosley +Company
Don't miss this opportunity to tap into a wealth of knowledge and lead your team to the next stage for your firm. To learn more about DCPA16, click here.
Tracks: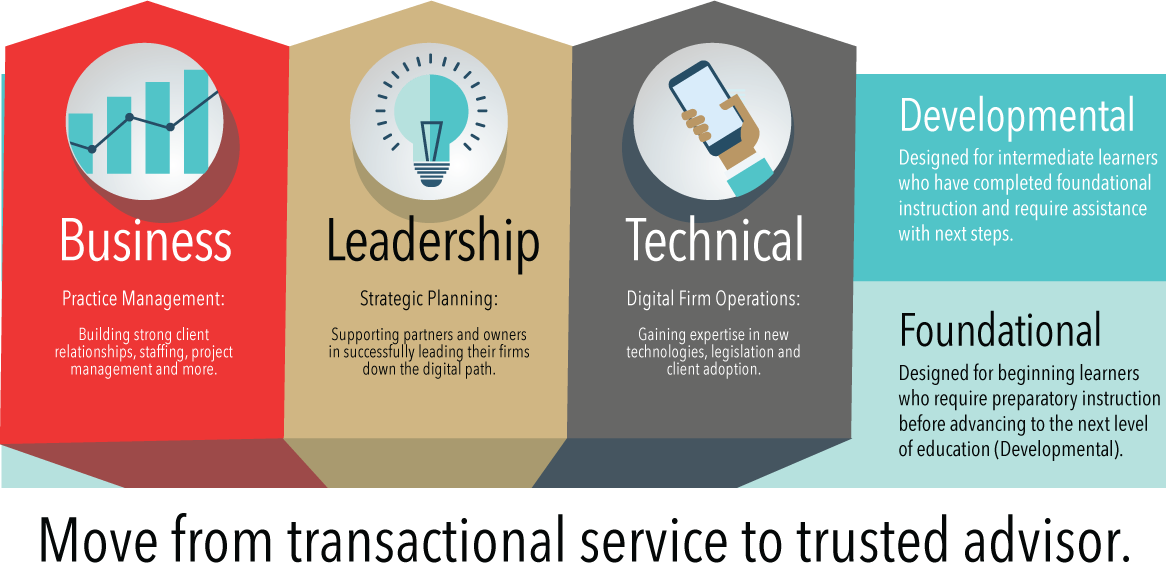 Who Should Attend:
To take to the lead you need the support and involvement of a team; as such, the content is designed to include multiple professionals in your office, including:
Partners, managers and staff of client accounting service teams
Technology champions responsible for implementing cloud solutions within your firm
Business development directors
Human resource directors or talent development professional
INDIVIDUAL RATES
AICPA Member
Non-Member
Super Early Bird: $995 (before 8/26)
Early Bird: $1,020 (before 10/28)
Regular Rate: $1,095
Super Early Bird: $1,295 (before 8/26)
Early Bird: $1,320 (before 10/28)
Regular Rate: $1,395
PCPS Firm/ITMA Section/CITP & CGMA Credential Holder Pricing
Super Early Bird: $895 (before 8/26)
Early Bird: $920 (before 10/28)
Regular Rate: $995
Pre-Conference Sessions
2 preconference topics will be offered for 3 additional CPE credits.
The cost of each session is $150.
GROUP RATES:
Groups of 2-5 attendees take $75 off of the indivdual rate.
Group of 6-20 attendees take $150 off of the indivdual rate.
Sign Up